My grandfather, James P. Berry, bought the first Chevy Volt sold in Rock Hill. Unveiled in 2007 (the same year as the iPhone) and taking 3 more years to come to market, the Volt was an odd car. An entirely electric drivetrain that had a 40 mile battery but could burn gas to power a generator to run the motors for unlimited maximum range. Commute on electricity, road trip on gas. The best of both worlds.
In a car industry notorious for imitation, it's still amazing to me that no other automaker tried something like it.
Jim was so excited about it, he actually put the money down more than two years before it was delivered. It was news enough that it got written up in the local paper: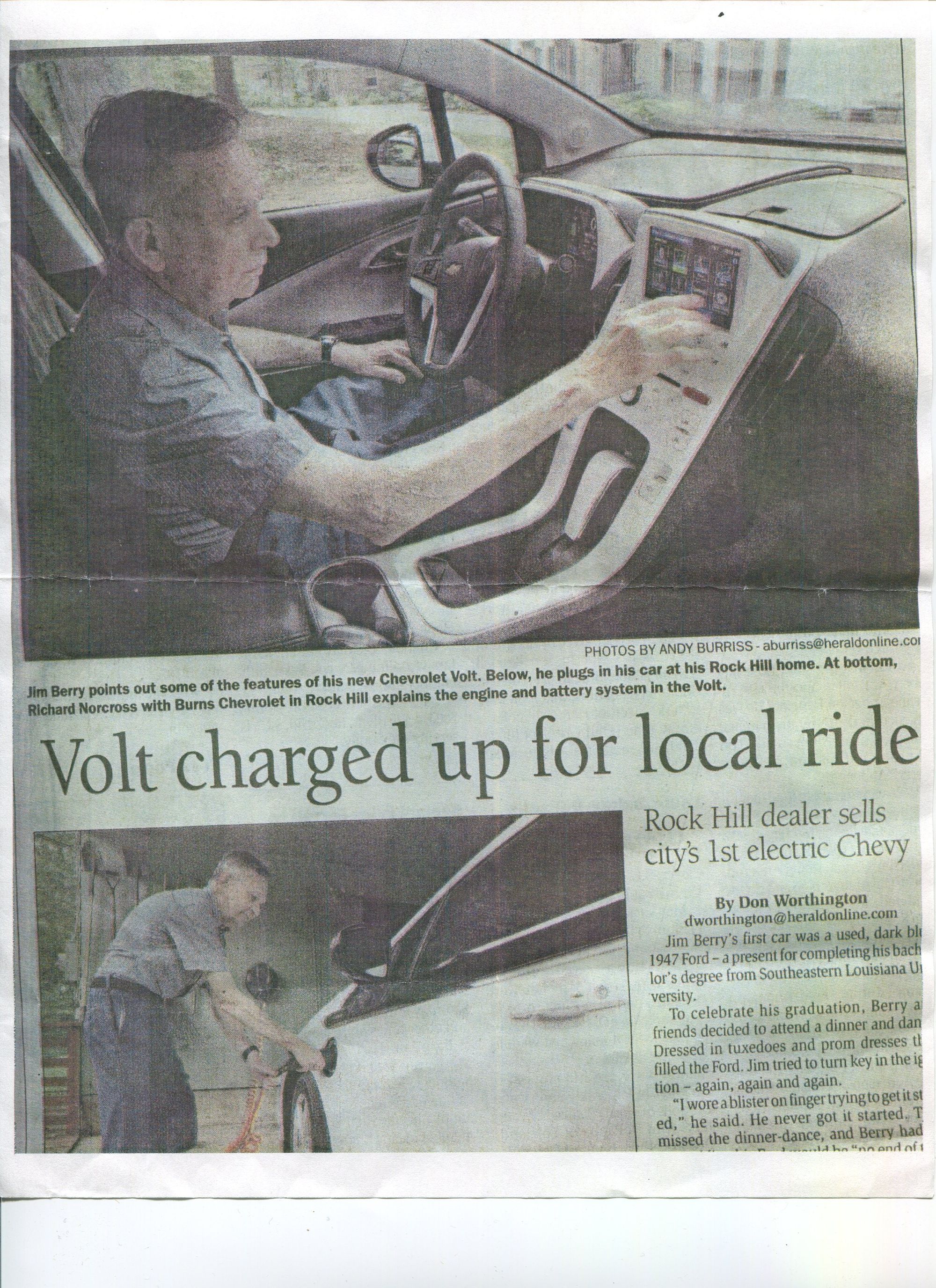 Retired Winthrop professor's new ride is a Volt

By Don Worthington - dworthington@heraldonline.com
September 17, 2011

Jim Berry's first car was a used, dark blue 1947 Ford - a present for completing his bachelor's degree from Southeastern Louisiana University.

To celebrate his graduation, Berry and friends decided to attend a dinner and dance. Dressed in tuxedoes and prom dresses they filled the Ford. Jim tried to turn key in the ignition - again, again and again.

"I wore a blister on finger trying to get it started," he said. He never got it started. They missed the dinner-dance, and Berry had the first inkling his Ford would be "no end of trouble."

A later trip home to New Orleans confirmed that. He had four flat tires on the way.

Last week, Berry picked up his latest car from Burns Chevrolet on Cherry Road in Rock Hill.

It is white, not dark blue. It does not have an ignition key. It's tires are filled with nitrogen, not air.

Gas was 30 cents a gallon when Berry had his '47 Ford. The lowest price in Rock Hill today is $3.16 per gallon. But Berry and his wife of 58 years, Lenore, don't comparison shop for gasoline anymore.

They have not added a drop of gas to their new car, despite driving to Pineville, N.C., and back.

Their new car is powered by electricity. They are the first people in Rock Hill to buy a Chevy Volt locally - waiting 2 1/2 years to get their car.

"I had no idea that I'd be first on the list," said the 79-year-old retired Winthrop University chemistry professor.

Berry had spent much time researching electric cars. His wife was skeptical. His argument that it would save money persuaded her.

Lenore Berry calls her husband a "first adopter," someone who wants to be on the cutting edge of technology. When most people were struggling to understand their mainframe computer at work, Berry was building his own personal computer at home.

He bought a kit in the early 1970s and put it together himself - soldering all the connections and teaching himself to use it.

"You couldn't do much with it," he said. "There was no software and little memory."

Berry still has the computer.

Their experience with a Toyota Prius Hybrid helped. Both cars start the same way: Snap on the seatbelt, depress the brake pedal, push a button, select a gear - and off you go.

But the Prius used conventional technology. The engine is connected to the drive train and powers the car at higher speeds or when the battery does not have a charge.

The Volt's engine is connected to a generator that charges the car's battery.

Most battery charges, however, are conducted when the car is at rest.

The Berrys installed a 240-volt charger at their home in the Hickwood neighborhood. It can charge the Volt's batteries in four hours. Charging takes 10 hours with a normal, 110-volt circuit.

Even with all his research, Berry was not sure what to expect when salesman Richard Norcross of Burns Chevrolet called to tell him his car would be ready in a few days. Berry asked for - and got - a sneak peak.

When he got the car, the style pleased him. For a four-door sedan, it looks sporty.

"When you say electric cars," he said, "most people think of something like a golf cart."

The performance pleased him. It accelerates like a gas-powered car and easily stays with traffic on the highway.

The quietness pleased him. There is no engine noise, no sounds of a shifting transmission. The only thing passengers hear is the air-conditioning fan - if it's on - and the sound of the tires hitting bumps and potholes.

The challenge, the Berrys are finding, is adapting to a new lingo and reading the entire car manual to understand all the things the Volt can do. The car has been described as an "iPod on wheels."

First, you don't start the engine. You push a blue button to turn it on and turn it off. Hitting the button triggers two sounds. Lenore described the turn-it-on sound as a "fanfare," the turn-if-off sound as "a sound of relief."

The manual lists the car's features, many of them unique to the Volt. The engine will come on unannounced, Norcross said, when sensors detect the gasoline is getting stale and needs to be replenished, or the oil needs to circulate. There is also a "mountain mode" in which the engine will charge the battery before attempting steep terrain.

A new buzz phrase - "range anxiety" - refers to the distance electric cars can travel without recharging. Because the Volt's gasoline engine charges the battery, its range is, arguably, limitless. To keep driving, just keep filling the nine-gallon gas tank.

Chevrolet estimates the car can make it 379 miles on battery and a tank of gas.

Hot and cold temperatures can affect battery performance. Steep terrain can drain the battery. How you drive the car can reduce the Volt's efficiency.

The Berrys are anxious to see how charging the Volt affects their electricity bill. Chevrolet estimates the cost is 4 cents per mile. The Berrys have read the cost could be $1.50 for a daily charge.

That comes out to $46.50 per month - about what many people pay per week to fill their tank with gas.

Others in the region are interested in the Volt, too.

Martin McKinley, general manager of Fred Caldwell Chevrolet in Clover, said the dealership has presold two Volts.

Matt Johnson, sales manager at Dunlap-Johnson Chevrolet in York, and Mike Thomas, general manger for Lancaster Motors, report a lot of interest in the cars.

The three dealerships are awaiting Volt deliveries. Burns already has a Volt on the lot for test drives. Each dealership also will have a charging station and people to sell and maintain the Volt.

With a base price of $39,995, the Volt is pricey. It qualifies for a $7,500 federal tax credit.

Nonetheless, Berry foresees a day when driving an electric car will be more common.

"Places now advertise free Wi-Fi access," he said. "Soon they will be advertising free charging stations, too."
(Continued in Part 2)